Medieval Skull Helmet / Helm
Grim Reaper Skull Helm
Exclusive - Full Pivoting Visor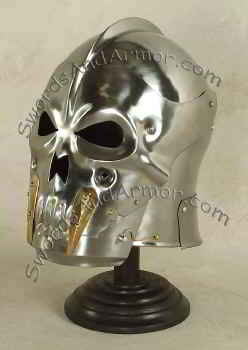 Skull Helmet with Visor
H-SKULL
This is our own Skull helmet design. If you see it somewhere else, its a copy. Made from 18 ga. polished carbon steel, this helmet gives good visibility. The movable visor has good air flow and provides great protection with a nice visor lock / catch. It also includes an ADDED BONUS FREE HELMET STAND as shown. Also the helmet has an adjustable leather lining to facilitate comfortable fit and wearing for any size head. This is onr of the most unique helmets we have ever developed and we are very proud of it.
Good Air Flow - 18 ga. Carbon Steel - Polished Finish
Good Quality
Medieval Helmets and Helms chain mail coif

We encountered this design in our search for new and unique items. A factory saw our original design and decided to make their own design instead of ripping ours off which happens so many times with our designs and images. We thought it was cool and at least they took the time to do their own design instead of making a knock-off which we liked and brought the piece into the line. It is made of mild steel and has a polished finish. There is a fully pivoting visor. It pretty much looks like a skull. Fits a medium to large head size. 18 ga. steel ... we suggest wearing with a chain mail coif or arming cap.
we suggest wearing with an arming cap
or chain mail coif
Medieval Weapons Index Helmets Home
Other Medieval Helmets and Helms
Swords and Armor Bargain Dungeon !
New Introductions - Closeouts - All Great Bargains
Shipping Policies and Rates - Returns
Payment Methods
We accept Visa, Master Card, American Express , Discover Card and PayPal
copyright 2001-2014 swordsandarmor.com , All Rights Reserved
privacy