Medieval Close Helmet with Aventail
Clamshell Close Helm



Sorry This Item is Discontinued



H031
w/Chain Mail Aventail - Great Design !
Clamshell Helmet Visor Opens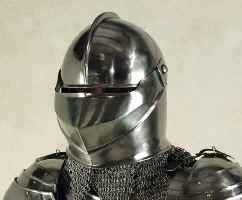 This is our own replica medieval helmet design. If you see it somewhere else, its a copy. Made from 18 ga. polished carbon steel this helmet gives good visibility. The movable visor has good air flow and provides great protection. Nice Chain Mail Aventail provides additional protection and really dresses the helmet up.
Good Air Flow -
18 ga.
Carbon Steel
Polished Finish
Good Quality - Chain Mail Aventail Included


Helmet Stands
Helmets Index Medieval Armor Index
Other Medieval Helmets and Helms
Swords and Armor Bargain Dungeon !
New Introductions - Closeouts - All Great Bargains
Shipping Policies and Rates - Returns
copyright 2001-2015 swordsandarmor.com , All Rights Reserved
privacy policy