Crusader Great Helm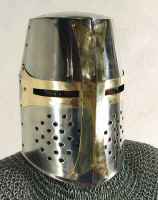 Crusader Great Helm
H910902 Crusader Great Helm
This Helm is Made from 16 ga. polished carbon steel this and is Super Heavy Duty. It is Full a Coverage Battle Helm with a Brass Cross and is typical of the type used during the Crusader Era. The one piece solid construction featured a reinforced nose-piece area and a perforated face area for good air flow.
Good Quality - Very Heavy Duty
Chain Mail Coif Extra
Swordsandarmor.com carries several styles of helmets and great helms. This reproduction Crusader great helm or heaume, also called pot helm, bucket helm and barrel helm, is a helmet of the High Middle Ages. It arose in the late twelfth century during the crusades to the Holy Land. The helmet type was constructed of one piece with no visor or hinges. The helm of the Crusader was generally flat-topped and made of carbon steel that was roughly tubular / bucket in shape with side slightly tapered near the top. It completely covered the head and had very small openings for the eyes and mouth. It provided great protection to the medieval knight and was simple to use and maintain. The many ventilation holes provided cooling for the knight. The Crusader helmet typically had a piece of brass or other material across the nose and brow forming a cross depicting their Christian beliefs. The helm and it's related types remained in use until the mid-fourteenth century.
Medieval Helmets Medieval Weapons Index
Other Medieval Helmets and Helms
Swords and Armor Bargain Dungeon ! Shipping Policies and Rates - Returns
New Introductions - Closeouts - All Great Bargains
Payment Methods
We accept Visa, Master Card, American Express , Discover Card and PayPal
copyright © 2001-2014 swordsandarmor.com . All Rights Reserved
privacy