Helmet and Helm Stands - Steel and Wood
HS1 Metal Helmet Stand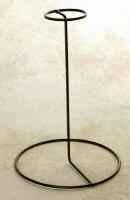 Black Steel - 14 " Tall
Made in U.S.A.
This helmet stand is hand-made in the USA. It has a sturdy wrought iron black finish and is large enough to accommodate any size helmet. Our Crusader helmet is one of our largest helmets and it fits easily on this stand. The Norman helm is the smallest helmet we sell and balances and displays well also on this piece. There is no assembly required on this stand.
Various Helmets Displayed On This Stand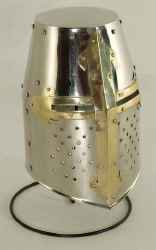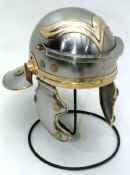 HS32 Wooden Helmet Stand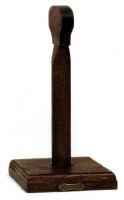 Will Work With Any Helmet
17" Tall Total Height - Very Nice
This wooden helmet stand is made in Italy and is of very high quality. It is well made and has a brass display plate on the base of the stand. These are not you basic budget stands and your will be prod to display any helmet on it.

Swords and Armor Bargain Dungeon !
New Introductions - Closeouts - All Great Bargains
Shipping Policies and Rates - Returns
Payment Methods
We accept Visa, Master Card, American Express, Discover Card and PayPal

copyright 2001-2014 swordsandarmor.com , All Rights Reserved
privacy policy