Unicorn Shield
Unicorn on Purple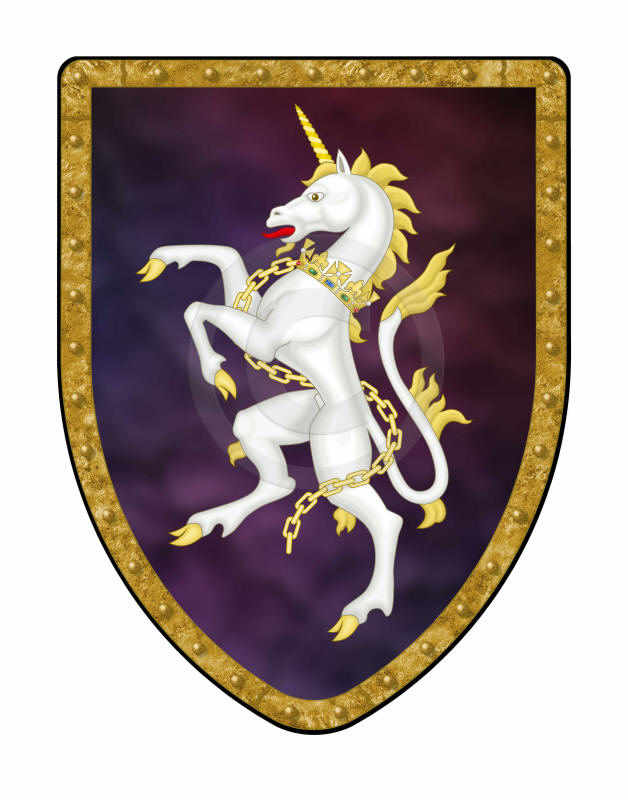 Made In The USA
Regal to the core this Unicorn shield depicts an unchained unicorn on a bold purple field with a gold / brass-tone riveted rim. The rim is actually part of the shield artwork and not a separate piece. We pulled out the stops on this one and used every artist , graphic trick and digital aid in our tool box to bring this shield to life. Order the display version for the wall or a hand held version as well. Both look the same on the face.
SH503P-DG-HG-Unicorn-on-Purple Hanging Shield
Hanging Shield Back
SH503P-DG-BR-Unicorn-on-Purple Battle Shield w/Straps
Battle Shield Back
Battle Shield Back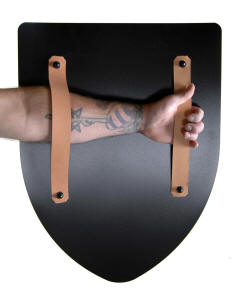 Unicorn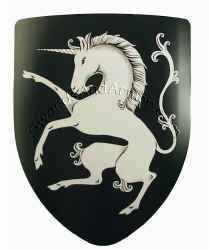 This Replica Medieval Shield . . .
is Made In The USA constructed of 16 ga. steel. The shield size is 18" x 24" and it has a curved shape. It is the classic "Heater" style battle shield. They are reproduced from hand-painted original artwork by our artists and graphics team and then clear bonded to preserve the artwork. The shields are available in either a wall display version with a chain to hang from or a hand-held battle ready version with heavy duty 1 1/2" leather straps on the back. Order the version you desire below.
SH200-C Unicorn Display Shield with Hanging Chain
Hanging Shield Back
SH350-C Unicorn Battle Ready Shield with Leather Straps
Battle Shield Back
Unicorns in Heraldry
The Unicorn was not widely used in early Heraldry, probably because of its ephemeral and mystical nature and heraldic symbols tended to be more battle oriented. It became popular in the 15th century and first began to appear in the royal arms of Scotland that was used from the 12th century to 1603 and the Royal Coat of Arms of the United Kingdom of Great Britain and Northern Ireland as used by Queen Elizabeth II from 1953 to the present (as used in all her realms except Scotland).

Even though the Unicorn is a mystical creature, its depiction has been found in widely different geographically regions since the Bronze Age in paintings, even being found in seals in one of the most ancient of civilizations, the Indus Valley located in modern day Afghanistan, Pakistan and India. By the Renaissance era, when it began to appear in family crests and coat of arms, it had become a symbol of 'Purity and Grace'. It was depicted as a wild and passionate animal and in Heraldry, who usually show the Unicorn with goat's hooves, a lion's tail and a slender spiraling horn, usually chained and collared, an indication of the hardest of all virtues to attain, Temperance.
Medieval Weapons Suits of Armor
Swords and Armor Bargain Dungeon !
New Introductions - Closeouts - All Great Bargains
Shipping Policies and Rates - Returns
copyright © 2001-2014 swordsandarmor.com . All Rights Reserved
privacy