Templar Knights Shield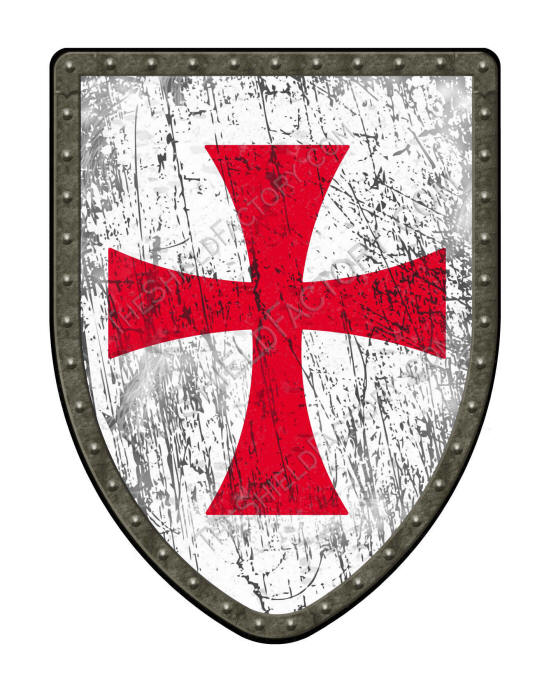 SH503P-DG-HG-Templar-Distressed
Display Shield with Hanging Chain
SH503P-DG-BR-Templar-Distressed
Battle Ready Shield with Leather Straps
Battle Shield Back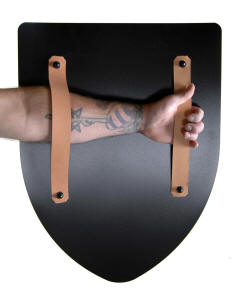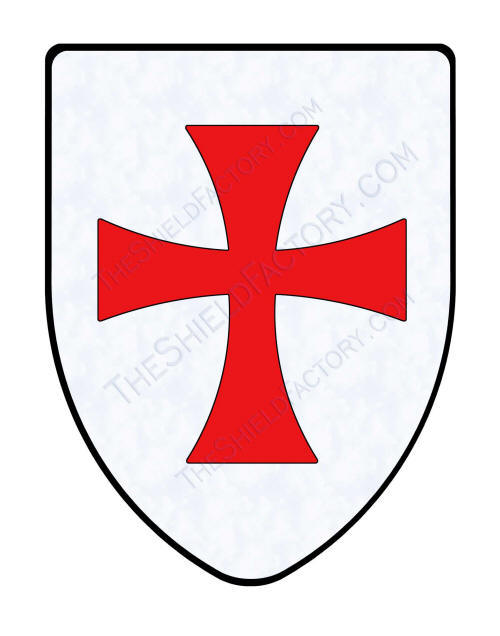 SH503P-DG-HG-Templar
Display Shield with Hanging Chain
SH503P-DG-BR-Templar
Battle Ready with Leather Straps
Battle Shield Back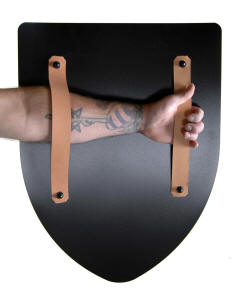 Templar Special Variant - Black / Red / White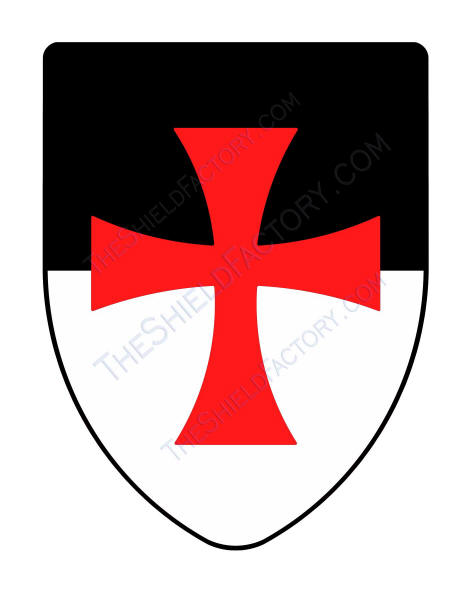 SH503P-DG-HG-Templar-Special Hanging Shield
SH503P-DG-BR-Templar-Special Battle Shield w/Straps
Battle Shield Back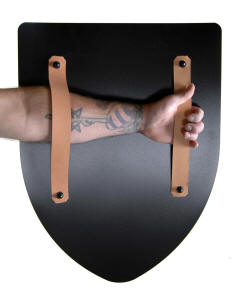 Shields Index Medieval Weapons Index
The Templar Knights
Templar Knights a.k.a. 'Poor Knights of Christ' were a monastic order of knights founded sometime in the aftermath of the First Crusade of 1096 to protect European pilgrims coming to the Holy Lands of Jerusalem. They are called the Poor Knights due to the oath of poverty they had to take. They had to supply their own means of travel and weaponry and for sometime they relied on alms for their fare and other needs. Also, any wealth and lands that belonged to the knight were donated to the Order in honor of the oath of poverty.

The order of the Templars grew in nobility rather quickly. They owed this to the two great passions of the Middle Ages, religious exuberance and martial fortitude. Even before the Templars proved their worth, the spiritual and civil authorities showered them with favors of all sorts. They received protection from the popes with tax and juristic exemption. Officially endorsed by the Roman Catholic Church in 1128, the Order became a favored charity across Europe and their power of brotherhood prospered. The order, organized under a grand master and general council, established its headquarters in Jerusalem.

Donning their distinctive white mantles/cloaks, each with a red cross, were amongst the best battle forces of the Crusades. A Papal Bull (a charter issued by a Pope usually for many kinds of communication of a public nature) was assigned to the Templars in 1139 by Pope Innocent II stating that they owed no allegiance to anyone other than the Pope himself. It was 1146 when the Knights Templar adopted the red splayed cross as their emblem and placed it on their mantles, swords, buildings, and gravestones. The cross is very important in tracing their history and movements throughout history.

Noncombatant members of the order managed the economic groundwork throughout Christendom. They integrated many financial techniques becoming one of the earliest forms of banking commerce. By combining monastic privilege with chivalrous adventure, they attracted many nobles. Monarchs went to the Knights Templar treasurers to obtain loans to finance their interests. Sometimes this included the cost of mounting a war.

Untouchable for nearly two centuries, the order fell from grace. It is said that the Templars demise was a result of greed, jealousy and corruption. Originally founded on the principles of chastity and poverty to be austere and humble, became an increasingly successful super power of the Middle Ages. Despite the fall of the Order of the Knights Templar, they play a significant role in history and the development of banking, agriculture, and nearly any site in England that uses the name "Temple" can probably be traced to Templar origin.
Similar Medieval Shield Items Below
Swords and Armor Bargain Dungeon !
New Introductions - Closeouts - All Great Bargains
Shipping Policies and Rates - Returns
copyright 2001-2014 swordsandarmor.com . All Rights Reserved
privacy