Fleur de Lis Display and Battle Shields
These Replica Fleur de Lis Medieval Shields . . .
are constructed of 16 ga. steel. The shield size is 18" x 24" and it has a curved shape. It is the classic "Heater" style battle shield. They are digitally reproduced from a hand painted original piece then sprayed with a protective coating to preserve the artwork. The shields are available in either a wall display version with a chain to hang from or a hand-held battle ready version with heavy duty 1 1/2" leather straps on the back. Order the version you desire below.
Fleur de Lis Shield - 3 on Blue Field with Rim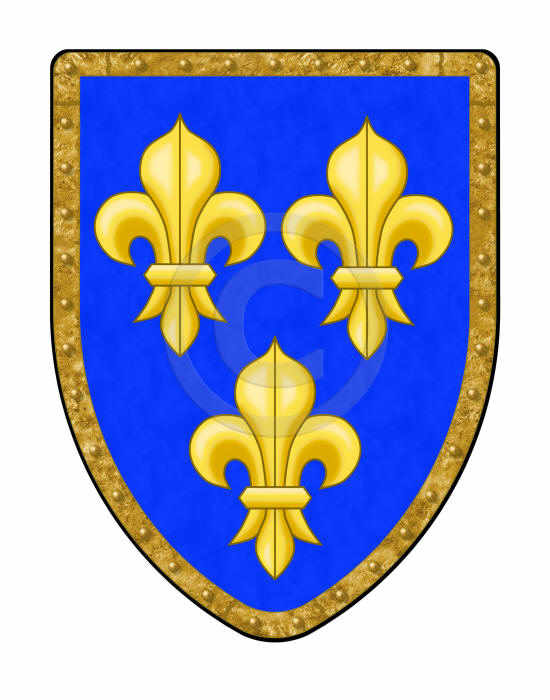 rim is part of the artwork and not a separate piece
2 Styles Available - Hanging or Hand Haled Battle Ready
SH503P-DG-HG-3Fleur-de-Lis Hanging Shield
Hanging Shield Back
SH503P-DG-BR-3Fleur-de-Lis Hand Held Battle Shield
Battle Shield Back
Battle Shield Back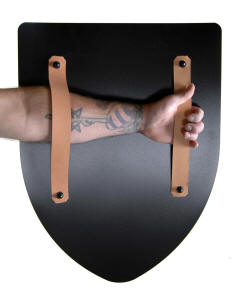 SH200-B Fleur de Lis Display Shield with Hanging Chain
Hanging Shield Back
SH350-B Fleur de Lis Battle Ready Shield with Leather Straps

Shields Index Replica Medieval Weapons Display Shields
Swords and Armor Bargain Dungeon !
New Introductions - Closeouts - All Great Bargains
Shipping Policies and Rates - Returns
copyright 2001-2014 swordsandarmor.com , All Rights Reserved
privacy