White Cross Medieval Shield
White Cross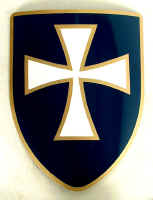 This Replica Medieval Shield . . .
is constructed of 16 ga. steel. The shield size is 18" x 24" and it has a curved shape. It is the classic "Heater" style battle shield. They are hand-painted by our artists and then sprayed with a protective layer of polyurethane to preserve the artwork. The shields are available in either a wall display version with a chain to hang from or a hand-held battle ready version with heavy duty 1 1/2" leather straps on the back. Order the version you desire below.
SH200-B White Cross Display Shield with Hanging Chain
Hanging Shield Back
SH350-B White Cross Battle Ready Shield
with Leather Straps
Battle Shield Back View
The White Cross
No known order claims the White Cross Shield as its own, but its origin probably emerged from one or many of the fighting orders during these holy wars that came from the ranks of priests and doctors who attended as medics for the knights of the Crusades as they went into battle. This was a holy war and the White Cross would have been the symbol of the Peace of the true Messiah.
The origin of the White Cross probably emerged from a long forgotten or unnamed Order that dedicated itself first to the care of the sick and injured and which possibly evolved into a fighting order as so many did such as the well-known Templar, Hospitaller and Teutonic orders. A White Cross symbolizes purity and holiness and so is a most positive symbol of Peace, which seems to be an oxymoron when placed on a shield, until you realize that its owner was fighting FOR Peace in Christendom, whether it be in the healing arts or the art of war. It would have been a powerful symbol to the wounded soldier as it came towards him, as it would have been a sign of good fortune, blessings and care to come.
Shields Index Medieval Weapons Index
Swords and Armor Closeouts !
New Introductions - Closeouts - All Great Bargains
Similar Medieval Shield Items Below
Shipping Policies and Rates - Returns
Payment Methods
Visa, Master Card, American Express, Discover Card and PayPal
copyright © 2001-2014 swordsandarmor.com . All Rights Reserved
privacy policy