Stag Medieval Shield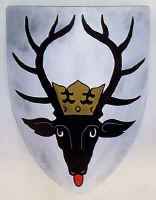 Stag Deer
This Medieval Shield . . .
is constructed of 16 ga. steel. The shield size is 18" x 24" and it has a curved shape. It is the classic "Heater" style battle shield. They are hand-painted by our artists and then sprayed with a protective layer of polyurethane to preserve the artwork. The shields are available in either a wall display version with a chain to hang from or a hand-held battle ready version with heavy duty 1 1/2" leather straps on the back. Order the version you desire below.
SH200-C Stag Display Shield
with Hanging Chain
Hanging Shield Back
SH350-C Stag Battle Ready Shield
with Leather Straps
Battle Shield Back
The Stag's Head Heraldic Symbolism
And Use On The Shield
Man has always hunted and the great horned Stag has always been a worthy opponent. The Stag uses stealth and great awareness to avoid man yet with another stag, shows its valor and superiority in protecting its territory.

Early Paleolithic man immortalized the stag by cave drawings that show men wearing antlers on their heads in ceremony, so we can conclude that the elusive stag has been a focal point of admiration and mysticism since the earliest of man's time.

The old name for deer was cerf (French), and it is chiefly the head that appears on the more ancient arms. It is found on many shields throughout Europe, the British Isles and Scandanavian countries such as Norway, where it is still to be found on the shields of various townships.

This particular shield would be referred to as Stag's Head Caboshed referring to its position on the shield in heraldry. The crown on its brow shows Authority and the red tongue represents WAR. It is a fine shield to carry into battle as it represents Valor and Unity with its own kind to protect the Peace and Harmony of home and hearth.
Shields Index Replica Weapons Index
More Medieval Shield Items Directly Below
Swords and Armor Bargain Dungeon !
New Introductions - Closeouts - All Great Bargains
Shipping Policies and Rates - Returns
Payment Methods
We Visa, Master Card, American Express, Discover Card and PayPal
copyright 2001-2014 swordsandarmor.com . All Rights Reserved
privacy policy