Bears Medieval Shield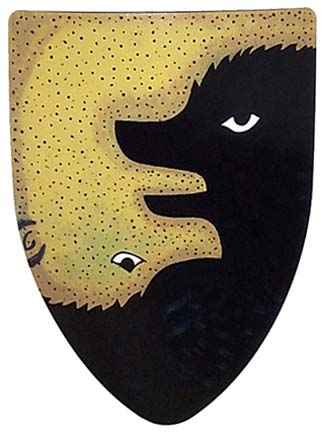 This Replica Medieval Shield . . .
is constructed of 16 ga. steel. The shield size is 18" x 24" and it has a curved shape. It is the classic "Heater" style battle shield. The piece is reproduced from an original hand painted piece and produced with a high degree of digital detail. We then spray the shield with a protective layer of polyurethane to preserve the artwork. The shields are available in either a wall display version with a chain to hang from or a hand-held battle ready version with heavy duty 1 1/2" leather straps on the back. Order the version you desire below.
SH503P-DG-HG-Bears
Display Shield with Hanging Chain
Shield Back View
SH503P-DG-BR-Bears
Battle Ready Shield with Leather Straps
Battle Shield Back View
The Mighty Bear
The symbol of the Bear in heraldry is believed to represent strength, cunning and ferocity used in the defense of kindred. It is found mostly in Scotland, with its ancient heritage of Celt and Norwegian influences. In more primitive societies, Totems often depicted Bears as the animal that was venerated for its protection for the clan and the solace found in its power to do battle with its enemies.

It is a more recent and more rare addition in the history of Heraldry to the animals normally used although as a symbol, its usage dates back to ancient times in human history. It is normally shown with only the head in early heraldry but in more modern usage in full form. Bern (which means Bear) and Berlin (which means Little Bear) have both adopted the Bear in their town crests.
Battle Ready Shields Display Shields
Replica Weapons Index Swords and Armor Home
More Medieval Shield Items Directly Below
Swords and Armor Bargain Dungeon !
New Introductions - Closeouts - All Great Bargains
Shipping Policies and Rates - Returns
Payment Methods
Visa, Master Card, American Express, Discover Card and PayPal
copyright 2001-2014 swordsandarmor.com , All Rights Reserved
privacy