Chain Mail Shirt - Long Sleeve
Long Sleeve Chain Mail Shirt
CM101-LS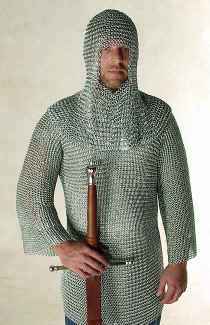 Long Sleeve Chain Mail Shirt
Coif Sold Separately !
Mid Thigh Length - Sleeves are 19" Long.
This shirt has extra length sleeves compared to our standard shirt.
You can buy the standard steel coif too right here on this page if you like.
The material is zinc plated steel with the standard 4 in 1 link weave.
CM101-LS Long Sleeve Shirt Only
J2-Coif Chain Mail Coif
(pronounced "kwof")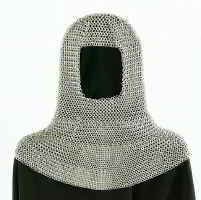 Chain Mail Coif
Chain mail shirts weigh between 35 and 45 pounds depending on the size.
You might want to consider our Aluminum Chain Mail Shirt if weight is a concern for you.
More Chain Mail Products - Click on Any Photo for More Details or to Order
Chain Mail Links and Bulk Sheet for Projects and Repairs
Chain Mail Home Medieval Weapons Map
Chain Mail Armor Stand Mail Shirt Index
Swords and Armor Bargain Dungeon !
New Introductions - Closeouts - All Great Bargains
Shipping Policies and Rates - Returns Contact Us Via Email
copyright © 2001-2015 swordsandarmor.com . All Rights Reserved
privacy