Hospitaler Knights Shield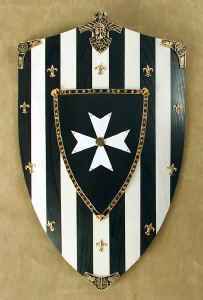 This Replica Medieval Shield
Made in Spain
Discontinued
It measures 30" x 18" and weighs 10 pounds.
Comes with a sturdy hanging chain and a bracket to display a sword
Other Hospitaler Knights Shield Design
Hospitaller Knights
A Christian brotherhood stationed a Benedictine nursing hospital next to the site of the monastery of Saint John the Baptist. Taking in Christian pilgrims traveling to visit the birthplace of Jesus, they provided care for the sick and alms for the poor. After success of the First Crusade in 1099, the hospital expanded and set up additional hospitals along the route to the Holy Land. Recognized in a papal bull issued by Pope Paschal II on February 15, 1113, the order was formally named the Hospitalers of St. John of Jerusalem.

The papal bull confirmed that the order was founded by the Blessed Gerard. Gerard acquired land and assets for his order throughout Jerusalem and beyond. His successor, Raymond du Puy of Provence, developed the first major Hospitaller infirmary. It was built near the Church of the Holy Sepulchre. Soon, they extended from just caring for the pilgrims to providing them with armed escorts to the Holy Land. Many knights joined the Hospitalers, which soon proved to be very useful in defending the Holy Land.

The order included both knights and monks as members. These men took the monastic vows of chastity, poverty, and obedience. The also added a fourth vow which bound them to protect pilgrims and fight the infidels. The Hospitaller Knights were distinguished by wearing a black surcoat with a white cross.

Throughout the hundreds of years passed the Hospitallers acquired many Christian victories and freed thousands of Christian slaves. In 1830s the Order established a new headquarters in Rome and new orders were installed in Italy and Britain. Over the centuries the order gradually gave up warfare and focused on medical care and territorial government. Today the order no longer reigns any territory, but it is accepted as a sovereign nation by the Vatican and some Catholic European nations.
More Hanging Medieval Shields For Wall Display
Swords and Armor Specials !
New Introductions - Closeouts - All Great Bargains
Shipping Policies and Rates - Returns
Payment Methods
We accept Visa, Master Card, American Express , Discover Card and PayPal
copyright © 2001-2015 swordsandarmor.com . All Rights Reserved
privacy policy