El Cid Quadrant Shield - Antique
El Cid Shield - Antique Finish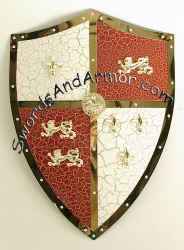 El Cid Shield
This replica medieval shield reflects the colors and heraldry of El Cid the Spanish warrior knight. It is a quadrant design and has opposing Lions and Fleur de Lis symbols in brass finish. The size is 18" x 24" Tall. It has an adapter clamp assembly on the back side to mount a single or double crossed swords to display with the shield. There is also a chain from which to hang the shield from the wall. This piece is a great value.
SH027 El Cid HeraldryDisplay Shield with Hanging Chain
This Fine Replica Medieval Shield Is Made in Spain
It is constructed of painted steel with brass trim. Artwork consists of a four quadrant background of red and white with brass castles and rampant lions. The shield size is 18" x 25" and it has a curved shape. It is the classic "Heater" style battle shield. This shield has a clamp mechanism on the rear of the shield to hold and display a sword securely with the shield.
Shield Example and Optional Sword
SH855 El Cid Heraldry Display Shield with Hanging Chain
More Hanging Medieval Shields For Wall Display
Swords and Armor Specials !
New Introductions - Closeouts - All Great Bargains
Contact Us Via Email
Call706-235-1670 (M-F, 8-5 est.) ToOrder by Phone
Shipping Policies and Rates - Returns
Payment Methods
Visa, Master Card, American Express , Discover Card and PayPal
Call 706-235-1670 (M-F, 8-5 est.) To Order by Phone
copyright © 2001-2014 swordsandarmor.com . All Rights Reserved
privacy policy