Excalibur Sword of King Arthur
Other Excalibur King Arthur Swords
Legend of King Arthur
Fiction or Fact ?
Even though most believe that he was a legendary figure versus a historical figure, there is some documentation that could lead us to believe that he was an actual early British leader which led to the legends derived from this man's feats. However, this is only one of several theories as to his origin and existence but one that seems to make the most sense and is the only one that has some actual historical documentation, albeit several centuries later.

To confuse the issue even more, this historical figure describes a man of lower rank and station than expected. In this part of the world and in this time period, few were literate enough to pen the events around them. Yet, there were scholars and scribes in the monasteries that recognized the need to document and recorded the most historic moments, usually battles and changes in leadership. The most common form of communication was the bards who embellished their songs and tales. This could have been the beginning of the mythic character that regales our hearts with his bravery and life, King Arthur of the Britons.

The earliest mention of the historical figure is in the Historum Brittonum (History of the Britons), a Latin document produced in the 8th century. It showed this man listed in 12 battles in the mid- 6th century.

In the late 5th or early 6th century, a soldier whose name was probably based on the Roman family name of Artorius, led a battle called The Battle of Mount Badon. He was of mixed heritage, being Roman-Briton (at that point in Northern England, Roman soldiers had settled with some of the local women). He is never referred to as 'Rex', which means 'King' in Latin, but as 'DuxBellorum', which means "Leader of Battles". He was apparently a man of legendary skill and leadership who is credited with killing 960 men on his own during this battle. The Anglo-Saxon army was soundly defeated and it was a great victory for the Roman-Britons.

There is also mention in a document detailing the Welsh legends of that era that echo this earlier document. It is the 10th-century AnnalesCambriae. Many historians debunk this document as historically inaccurate. I am sure it is due to the fact that it is based on Welsh LEGENDS and was 400 years after this Artorius died. But in every legend, there is truth to be found and so in this document, it is found worthy of consideration. The most interesting fact that it presents is the Battle of Cambron dated 537-539 where Artorius dies along with Medraut (Mordred). Whether this is a reflection of the myth or the man is historically debatable.
For those who seek the historical man...
I present to you Artorius, Dux Bellorum, of Briton, a soldier and valiant leader of men.
More Medieval Swords With Sheathes Below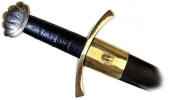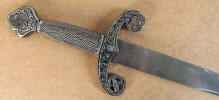 Fantasy Swords Map Fantasy Swords Swords Home
Medieval Weapons Index Shields
Swords and Armor Specials !
New Introductions - Closeouts - All Great Bargains
Contact Us Via Email Shipping Policies and Rates - Returns
Payment Methods
Visa, Master Card, American Express, Discover Card and PayPal
copyright 2001-2014 swordsandarmor.com . All Rights Reserved
privacy