Fantasy Swords - Top Quality
Best quality and selection anywhere

more fantasy swords - Merlin, Conan


SD223 Robin Hood Sword - 46" Long Total
Stainless Steel Blade
Made in Spain - Wooden Grip - Very Nice!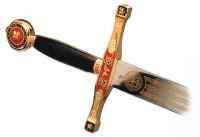 Excalibur sword
Fantasy Swords Home Suit of Armor Index Sword Index
Samurai Swords history of the knights
Medieval Swords
William Wallace Sword Charlemagne Sword Tizona El Cid
Our company has a huge stock of quality fantasy swords and dragon swords. We stock pieces from Art Gladius and some of finest swordmakers in the world. Dragon and mystic sword items are one our specialties. The sword blades are made of the finest stainless steel and forged by Spanish craftsmen. Traditional swords were folded many times in the traditional way to obtain the best combination of strength and flexibility. This laminating effect gives a fine sword its durability. If a sword is too hard it can break. The tang inside the handle must also be very flexible to absorb the shock of the blade strike. This is extremely important. Don't be fooled by cheap imitations. When it comes to replica weaponry, nobody can match Spanish attention to detail and commitment to superior quality.
Armor home fantasy weapons helmets
armor Scottish William Wallace armor legs
Samurai Medieval swords Lorica Segmentata Roman Armor
shields SCA Civil War History of the Knights Policies chivalry
Our Products are made from carbon steel or stainless and polished to a high sheen. Carbon steel can rust. We recommend WD-40 to clean and protect your weapons and armor. Rust can be removed with fine steel wool. Spray WD-40 regularly and wipe down to prevent rust. Always clean after use.
Our Shipping Process . . .
is done via either FED EX Ground or UPS. Both offer equivalent service to all areas of the country for retail delivery. Larger wholesale orders can sometimes be shipped via common carriers to save on freight. This only applies to multiple bolt orders shipped to the same location.
Our Packaging System . . .
We use heavy duty corrugated cardboard cartons and natural brown kraft paper to pack your fantasy weapon. All are 100% recyclable and provide the best protection from damage. We process our own orders. Some people have other companies ship or drop ship from another location. Not Us! You always get an order shipped from the same folks that you purchase from. No Middle Man . . No Hassle !
Our Lead time . . .
is normally 3-8 business days depending on your area. Our warehouse is located in Ga. so figure lead time accordingly. We can expedite orders via next day and second day air if you are in a hurry for your order.
Our Online Ordering System . . .
is as easy as it can be . Returning customers can start a new order or place a duplicate order just like you did last time. Just place the items that you want into your cart, continue shopping, then checkout anytime you like. The entire process is secure to protect your information from hackers and credit card thieves.
Your Privacy . . .
We never , ever sell share or trade your personal information with anybody for any reason. Your email address is also guarded. We only ask for it to confirm your online order. We Hate SPAM Too !
Our Checkout System . . .
features a secure online server for privacy and convenience. You can order with confidence. Your credit card and personal information are all secured with a high level of encryption to protect you from theft.
Payment Methods







We accept Visa, Master Card, American Express, Discover and PayPal
copyright © 2001-2015 swordsandarmor.com . All Rights Reserved
privacy policy