U.S. Cavalry and Staff Officer's Sword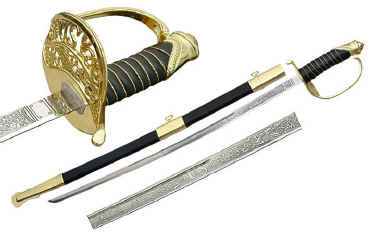 Union U.S. Staff and Cavalry Field Officer's Civil War Sword
38" Long Total - Leather-like scabbard w/ Gold Finish accent
US detail on Hilt
Wire Wrapped Leather Handle - Stainless Steel Blade w/ US Etching
MODEL 1850 STAFF AND FIELD CAVALRY OFFICER'S SWORD
The sword is one of the most recognizable weapons in human history. Existing in every culture and civilization from time immemorial, swords have been the backbone of armies since the times of Joshua before the walls of Jericho, the Spartans at Thermopylae, and Caesar's legions in Gaul. By the mid 19th century swords still played a vital role on both sides of the Civil War both on and off the battlefield.

The Model 1850 Staff and Field Officer's sword was approved and adopted by the United States Army Ordnance Bureau on April 9, 1850. It was originally intended for higher grade officers who received a pay allowance or commutation and could could make their own purchase decision but by the time of the outbreak of hostilities in 1861 the weapon had become a standard issue item. In 1860 concessions were made for volunteer and State officers to carry a lighter, cheaper, straight-bladed sword called the model 1860. Photographic and documentary evidence, however, points to the Model 1850 Staff and Field Officer's sword as being the most popular sword among all ranks of Union officers during the Civil War and even well into the post-war period. A Model 1850 staff and field officer's sword is much more correct to the Civil War period than the Model 1860 which, while used to a much smaller extent, was not officially adopted by the Ordnance Department until 1872!

The sword has an elaborate half-basket guard that bears the letters U.S. and typically has ornate patriotic etchings on the blade. Most swords carried by foot officers had a leather scabbard while mounted officers were allowed metal scabbards that were better able to stand up to constant banging against saddle accoutrements. The leather scabbards had brass fittings - throat, middle ring, and drag. The blade of the Model 1850 has such a slight curve that at first glance it appears straight and is single-edged with a false edge extending several inches back from the tip.

Use of the Staff and Field Officer's sword was mandatory until 1860 when the lighter and more fragile model of that date became optional but officers who desired a real weapon continued to use the the Model 1850 Staff and Field Officer's sword until the end of the war.
Confederate Swords Index Civil War swords Swords Home
More Union and Confederate Civil War Swords Below
Swords and Armor Specials !
New Introductions - Closeouts - All Great Bargains
How To Order . . .
Just click on the desired item. That will take you to a new page. Enter the quantity you want then hit the add-to-cart button to put an item into your cart. Checkout is fast and easy with our secure ordering system.
Lead Time . . .
We normally ship orders within 1 business day. Delivery lead time varies from 2-8 business days. Rush service is available via 2 day and next day air. Rush orders placed after 12:00 noon will be shipped the following day.
Our Shipping . . .
is done via either FED EX Ground or UPS. Both offer equivalent service to all areas of the country for retail delivery. Larger wholesale orders can sometimes be shipped via common carriers to save on freight. This only applies to multiple bolt orders shipped to the same location.
Our Online Ordering System . . .
is as easy as it can be . Returning customers can start a new order or place a duplicate order just like you did last time. Just place the items that you want into you cart, continue shopping, then checkout anytime you like. The entire process is secure to protect your information from hackers and credit card thieves.
Your Privacy . . .
We never , ever sell share or trade your personal information with anybody for any reason. Your email address is also guarded. We only ask for it to confirm your online order. We Hate SPAM Too ! Your information does not become part of a mailing list that is sold or used to market you additional products. It is provided strictly for the purpose of processing your order and communicating directly to regarding the status, cost, lead time and shipping particulars of your individual order. Did I mention the we really hate SPAM too ! We promise, you won't get any from us.
Our Secure Checkout System . . .
features a secure online server for privacy and convenience. You can order with confidence. Your credit card and personal information are all secured with a high level of encryption to protect you from theft. Your info is privately locked during the checkout process. We also protect all pages where you would be entering personal information like phone numbers and home addresses as well as your credit card information.
Payment Methods
We accept Visa, Master Card, American Express and Discover Card
copyright © 2001-2014 swordsandarmor.com . All Rights Reserved
privacy policy