Scottish Swords
Highlander Claymores

William Wallace Scottish Claymore sword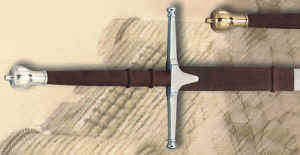 Scottish Highlander Broadswords
We Will beat any Price on these pieces!
Scottish swords knight armor history SCA armor
Scottish highlander swords : This site showcases the Swords and battle armaments of the great Highland warriors. SHIELDS, Suits of Armor, and medieval helmets are also available at the lowest prices anywhere. We have vast international resources available. If you are inquiring from a military academy, we develop new items constantly. If you have a particular sword in mind, e-mail us a JPEG or GIF file and we will see if we can match it. The SUITS of ARMOR are all hand-made. They are shipped disassembled. The MEDIEVAL helmets are shipped in a protective gel for ocean transit. Shields are available in plain steel or with an antique painted finish. All shields can also display one or two SWORDS and can be mounted on the back using supplied hardware. Hangers and displays are available so you can properly display your Mediaeval treasure. The Swords are not sharpened although they will take an edge. All halberds and polearms are shipped in two pieces that screw together tightly. All merchandise is manufactured in our partner factories in Spain and India. Our offerings change and are expanded daily. Check with us for new items. We want your business and will work hard to earn your trust. The best cleaner / preservative that we have found is good old WD-40. (TM) If only the Highlander knew of the wonder and power of this magic potion, he might not have spent so much time polishing his sword.
Scottish Swords Samurai swords medieval swords
helmets and helms civil war swords
Payment Methods
We Visa, MC, American Express, Discover and PayPal