Richard the Lion Heart Shield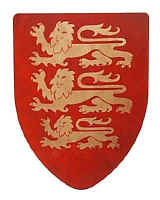 Richard Lionhearted
This Medieval Shield . . .
is constructed of 16 ga. steel. The shield size is 18" x 24" and it has a curved shape. It is the classic "Heater" style battle shield. They are hand-painted by our artists and then sprayed with a protective layer of polyurethane to preserve the artwork. The shields are available in either a wall display version with a chain to hang from or a hand-held battle ready version with heavy duty 1 1/2" leather straps on the back. Order the version you desire below.
SH200-B Richard Lionhearted Display Shield
with Hanging Chain
Hanging Shield Back View
SH350-B Richard Lionheart Battle Ready Shield
with Leather Straps
Battle Shield Back View
Richard the Lionhearted
King Richard of England was known as a monarch from a distance. Born in England, the third son of Henry II and Queen Eleanor of Aquitane, he only lived in England until he was eight years old. He grew up in Normandy and held several titles in the former Frankish kingdoms, spoke and wrote in French and Limonsin (an early dialect) and was known as Duc Richard IV de Normandy. His father, Henry II did his sons no favors by dividing up his kingdom into three equal parts yet continued to control the money which pleased none of them. The ensuing battles between their forces eventually caused the death of Henry the Young King, Richard's older brother, leaving him as the heir for the throne of England. During this time, he begged forgiveness for his part in the divisive nature of the three brothers and immediately began to quell the uprisings that he had helped instigate in Normandy. It was here that he earned his moniker, Richard the Lionhearted.

When the wave of enthusiasm surged for the Crusades, Richard gathered his Norman and British forces and headed for the Holy Land. Now King Heir of England and self- proclaimed King of Cyprus, he was trapped in the machinations of leadership and protecting the Holy lands that he had fought so hard to liberate for Christian rule, neglecting his duties to the many thrones of Europe that were his. He was imprisoned by enemies that he made during this time and his brother John claimed the throne. When Richard was finally released, he forgave John, naming him his heir and died shortly after.

The symbol of the lions are known in Heraldry Gules, three lions passant guardantin pale or armed and langued azure, meaning three identical gold lions (also known as leopards) with blue tongues and claws, walking and facing the observer, arranged in a column on a red background. The Dukes of Normandy from Rollo (first Duke of Normandy) had always used a lion for their personal arms. Henry II had used two lions and Richard added the third. Each king always changed the arms to claim it as their own but throughout English royal history, there has been a variation on the original Lions of Normandy with the Royal Arms.
Other King Richard Shield Styles



Richard LionheartShields Index Replica Medieval Weapons Index
Display Shields Swords and Armor Home
More Medieval Shield Items Below
Swords and Armor Specials !
New Introductions - Closeouts - All Great Bargains
Contact Us Via Email
Call 706-235-1670 (M-F, 8-5 est.) To Order by Phone
Shipping Policies and Rates - Returns
Payment Methods
Visa, Master Card, American Express, Discover Card and PayPal
copyright © 2001-2015 swordsandarmor.com . All Rights Reserved
privacy policy