Axes and Medieval Weapons
The classification of pole arms can be difficult and medieval European variations in particular can be confusing. This is due to a number of factors including unfamiliarity of weaponry in original source material, mistranslation of of period accounts, and the use of anachronistic terms by well-meaning researchers and historians.

Halberds, poleaxes, spontoons, fauchards, and Lochaber axes became the workhorses of medieval and renaissance infantry. They were relatively simple to make and easy train common soldiers in the use of as they were originally adapted from hunting and agricultural tools such as axes and billhooks.

Even after the advent of firearms the halberd was a common sight among in European armies well into the 18th century and was carried by Color-Sergeants in the British Army well into the Napoleonic Wars era and is still the ceremonial weapon of the famous Swiss Guard in the Vatican.
Axes Home Page Medieval Weapons Index My Cart
More Medieval Axes, Maces and Clubs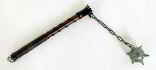 Swords and Armor Specials !
New Introductions - Closeouts - All Great Bargains
Contact Us Via Email
or Call Us at... 706-235-1670 (M-F, 8-5 est.) To Place Order by Phone
Payment Methods
We accept most major credit cards including Visa, Master Card, American Express , Discover Card and PayPal
You can also pay via money order or cashiers check if you prefer. Orders paid by personal check will be subject to a 10 day waiting period to ensure proper funding availability.
Call Us at... 706-235-1670 (M-F, 8-5 est.) To Place Order by Phone
All pages, images and text copyright © 2001-2014 swordsandarmor.com . All Rights Reserved
privacy policy