Custom Made Battle Shields For Display with Your Coat of Arms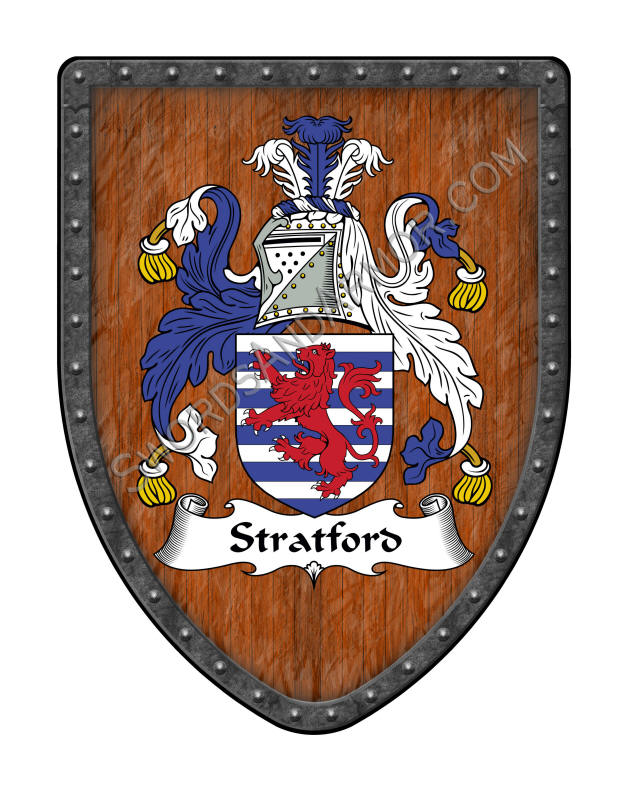 This is just and example of the family name "Stratford" on an 18" x 24" Steel display shield.
We manufacture custom coat of arms to order according to your family heraldry and have for years. Our database now contains over 10,000 names from European heritage. We have a comprehensive list of family names from England. After selecting you family heraldry image, we place it on and appropriate color coordinating background like the one above. Then we create your custom coat of arms on a steel battle shield fit for any castle wall. Make a statement and create a family heirloom that is sure to be passed down from generation to generation.
Here's how it Works ...
With 10,000 names it is impossible to display even name in every background. So first , contact us and tell us your family name and where you think the country origins of your name are ... England ... Germany etc. Also suggest a background from the examples shown below. They are all designed to be neutral and to compliment any family colors that your coats of arms might have. Then we will search our database and find your family coat of arms with the proper mantling and complete crest if it exits. We will then mock up your custom coat of arms complete with a custom background and the riveted steel rim graphics. After we are done, we then get back with you quickly in about 1 business day and show you what we have done with your blazon, coat of arms, crest and mantling. You then can review your project and decide if it is right for you.
OK ... What does all this cost ???
If our database contains your family coats of arms ( and likely it does ) the cost complete just like the one shown above is $189 plus s/h using our stock graphics. In the US shipping ranges from $18 - $26. If you like what we did for you just tell us you want to proceed via email or call us. We can then send you a secure payment link to pay for your project. That's it ! Our armor elves then start making your custom family crest by hand in about 2 weeks ... you will receive it. We guarantee you will love it ! Don't settle for a piece of paper, a mug or a mouse pad. Display your family colors with pride and this will be something to be proud of. When your family members see what we made for you , we are certain they will want one too.
Hand Made In America
Here Are The Stock Background Choices